Discover more from Something On
Guitar and Video Games
I'm not the guy who can tell you how the emo revival really began - there's probably a 2006 tour diary detailing every Sheetz stop over three straight weeks in Evan Weiss' van, forever lost to the great digital dustbin of Blogspot. Or a dead AbsolutePunk thread where people who are now going through their heavy shoegaze or Bruce Springsteen phase passed around the Mediafire link for the self-titled Tigers Jaw album. Or, a guy who owned a flophouse in Bucks County where Algernon Cadwallader passed out drunk that one time in 2008 and hasn't shut up about it in the past decade.
But as far as the capital-letters Emo Revival, the one that people like myself and NPR and Stereogum and every other major publication turned into a thing to compensate for showing up like five years too late, I can tell you exactly where that started - some patio at Warner Bros. in 2013.
I wish I could say this is a story of history repeating, of major labels covertly assessing emo's untapped commercial potential - a la 1997 or so, when Clive Davis welcomed Mineral into his cabana and had to front like they could ever make him enough money to buy a tank of gas. But this is just where I happened to be while receiving an email that would pretty much alter the trajectory of the next decade of my life. 
A friend of mine was working at Warner Bros. at the time - he invited me out on a Friday afternoon to get lunch and this was during the few and only months of my life when I was literally doing nothing else but music writing. A month prior, I had finished the last of my science prerequisites at community colleges across Los Angeles County and was about to start my nutrition program at Cal State Northridge in about another month. I had nothing better to do because the new (and last) NCAA Football was still a few weeks away from dropping. Plus, I was told Warner Bros. was giving away free bluetooth radios in a raffle. I actually won one of them, which felt like a pretty blatant attempt at payola given I wrote down my name and credentials, but that was oddly reassuring...in the same way it was oddly reassuring when I watched a UFC fight in mostly unfamiliar company and my friend's college buddies from Arizona State immediately started talking about which ring girls they thought were the most fuckable. Not because I want this stuff to exist, but because...oh, this still exists. It gives credence to the hand-wringing about sketchy major labels and sketchy dudes that can seem like purely theoretical strawmen if you spend most of your time on Twitter discussing whether or not the new Arca is a little "too pop."
But I digress, I was walking around on the patio afterwards (just to give this all a proper timestamp, there were still vestiges of their surely cursed campaign for Surfer Blood's Pythons), checking my email and everything changed because of this phrase: "It's kinda Hot Topic, but I fuck with it."
I'm not sure which one of us on the email thread said it - Brandon Stosuy, the editor at Pitchfork who received the promo email for Balance and Composure's upcoming second record The Things We Think We're Missing and passed it along to myself and Grayson Currin, a guy who mostly otherwise covered metal subgenres where the songs are either a minute long or 15 minutes. I'm fairly positive it wasn't me, because it immediately reminded me of a lot of things I played at the alt-rock station in Charlottesville ca. 2001, not Hot Topic - that convergence of nu-metal, rap-metal and post-grunge, where the vocals had that harmonized, nasal sound that somehow sound both flat and sharp, like dude was experiencing the burning sensation you get from the carbonation if you drink Diet Surge too quickly. The guitars were absolutely gorgeous but compressed within an inch of their life and the mix took the Loudness Wars to a nuclear scale (this was long before I knew who Will Yip was or why he drives scene kids who've dabbled in sound engineering up a fucking wall). It's kind of a stupid song - the lyrics are petulant, juvenile, literally "cry in the mirror" shit, and judging from everything Jon Simmons did after this album, he probably thinks it's kinda stupid too. And I'll never forget the reaction it got from my dude Mike Powell - "I've never felt this way in my entire life," but he's also a genius writer and looks like a young Damon Albarn, so why would he.
I was vaguely aware that rock music that sounded like this was still being made, but I figured this was the realm of all the bands that were passing through the lower levels of the Bamboozled poster or the Warped Tour-core bands I would see on the House of Blues marquee in Hollywood on the rare days where Social Distortion or some three-years-past-their-prime major label rapper like Wale or Young Joc was playing. That said, I couldn't deny that it hit the same buttons that "My Own Summer" or "Papercut" did, it was very Hot Topic and I fucked with it. On a lark, I said I'd write a track review. Once again, I didn't have much else better to do and I had a quota to hit as a Contributing Editor - and thankfully, I was allowed to write about it in a flippant, fun way that I couldn't get away with nowadays. 
You're an adult and you've finally got your shit together-- you've come to appreciate the recorded output of Sade, cereal is no longer an acceptable dinner option, and you're having civilized, regularly scheduled conversations with your parents. But then you hear the guitars on Balance and Composure's "Reflection", and they tear that whole shit down immediately.

In the lineage of Linkin Park's "Crawling", Deftones' "Be Quiet And Drive (Far Away)", or Smashing Pumpkins' "Bullet With Butterfly Wings," "Reflection" is a beautiful alt-rock song that wants to be ugly metal, from the perspective of a vulnerable guy who wants to be seen as dangerous. And man, there isn't a better lyric for this sort of thing than "reflection, who do I really see?," delivered by Jon Simmons in flat, nasal harmonies-- the sound of your post-pubescent, inner monologue telling you this world is full of things you cannot understand.

It almost certainly makes the name "Balance and Composure" sound ironic in this context, but otherwise "Reflection" is a total irony-free zone, four cathartic minutes of gorgeous, weapons-grade embarrassment rock that squarely hits the button when you realize that incapacitating teen angst is still an accessible nuclear option.
I've received maybe two emails in 12 years at Pitchfork about something "blowing up" - the first time was when my review of Childish Gambino's Camp went live and, through what only could be described as divine providence, I had no internet for most of that day because a inexplicable winter storm had knocked out the power throughout most of Silver Lake. This was the second time - and it was more amusing to myself and HQ than anything else, like...this ol' thing? I mean, it's not like our entry into this realm was a real flag-planting moment, like we threw a Best New Music on a Fall Out Boy track or whatever. I'm not even sure most people could tell whether or not I actually liked "Reflection." I just heard "people are going nuts over this," and that very day, I got introductory emails from Jamie Colletta, James Cassar, Tom Mullen, Zack Zarrillo, people who had put in real work for years and never pitched me before despite clearly working with bands that were deeply, deeply my shit. But apparently, people who paid attention to Balance and Composure were fucking shocked that Balance and Composure, a fairly popular but not pop band from this realm, was deemed worthy of the most mundane form of coverage.
I don't think it's an exaggeration to say that I jammed the past six years into the next 24 hours, being referred to every single label that identified with the scene - Count Your Lucky Stars, Run For Cover, Tiny Engines, pop-punk beyond Title Fight and, most importantly, Topshelf...imagine hearing Knots, Whenever, If Ever, A Great Big Pile of Leaves, Prawn, Empire! Empire! for the first time, all at the same time (this is why I could pitch the Wonder Years, Owel and A Great Big Pile of Leaves to Grantland as "pop-punk." It's kind of an embarrassing read now, but I think it's pretty important as far as putting this stuff on the map and normalizing its coverage. And as far as the mainstream was concerned, they really were working in the same realm). When I heard stuff like Whenever, If Ever or Knots or Balance and Composure, it wasn't so much that recognition of, "wow, they still make you?" It was tapping into the kind of feeling I hadn't experienced since I was maybe 23 or 25 and still capable of discovering entire subgenres from Pitchfork or Spin or Rolling Stone decade lists; hearing Laughing Stock for the first time, which eventually led to a deep dive into post-rock or finding out that marginally popular bands that you had forgotten were actually wildly influential in the sphere of indie rock. 
I didn't think something like this was possible for me anymore at 33, when I had pretty much tapped out every canon necessary for me to function as a mainstream music critic; it's a feeling I sometimes get whenever a new rap subgenre starts to bubble up, or something like beabadoobee or Cavetown that makes me aware of this vast, vast audience of listeners that could not give less of a shit about the music and publications I spent my entire adult life obsessing over. And yet, going on the Topshelf website for the first time was akin to discovering the lost city of Atlantis or something, a thriving ecosystem of bands unsullied by internet hype that connected late-90s emo with the go-for-broke, all-hands-on deck spirit of the mid-aughts, where American Football and Cap'n Jazz were even more important than Guided By Voices or Pavement. How did I miss all of this?
It was only fair for people who tirelessly and often thanklessly documented this stuff to ask the same question and even people who've benefited greatly from the increased attention have called me a "Johnny Come Lately" or scene infiltrator or co-opter or whatever, and that's fair. In my defense, prior to the fall of 2013, literally nobody aside from maybe Alt Press was covering this world. I've found this out the hard way whenever I've tried to write retrospective pieces on the early days of Touche Amore or Tigers Jaw or Joyce Manor or Title Fight, they're a nightmare for fact-checking; there are barely any reviews aside from the occasional Sputnik fan writeup, most interviews are on dead blogs or message boards. 
I do feel extremely guilty about missing out on all of this stuff as it was happening, but it's probably for the best; I came to realize my dude Brad Nelson threw me some ca. 2011 You Blew It! and Modern Baseball and I gave it a brief listen, hoping that maybe one day, they'll get decent production. But it wasn't something I could've reasonably pitched and that's another essay for another time - between 2008 and 2012 or so, when I was still freelance and not staff, I had to frame everything within a context of "can I write about this?" to really give it my time. One of the most pernicious things about being career-minded as a music writer is the way that sort of thinking impedes upon your actual enjoyment of music, and while spending so much time with 6.5-type albums repped by bigger indie labels and PR companies has given me endless Remember Some Guys material, no one even on Twitter reached out about...say, Everyone Everywhere or Glocca Morra (to say nothing of the PR people they didn't have). There was emo and there was Big Indie and in retrospect, there was never any communication between the two - neither thought the other would listen.    
But in hindsight, 2013 was the year that this was really ready to happen. For one thing, all of those bands who were developing in obscurity were ready to put out their masterworks, but it's also easier for bigger places to give attention to something if there's a scene rather than a smattering of good albums with no connective tissue. Meanwhile, this was probably the thirstiest year of critical poptimism to date - witness the credulous raves surrounding  Random Access Memories and The 20/20 Experience, pop albums with "indie" affinities that haven't even aged terribly; it took maybe a month before they revealed their true nature. Beyond that, HAIM, Chvrches, Disclosure, even Vampire Weekend, they all put out solid-to-classic records, but maybe not everyone was ready to embrace a zeitgeist that sounded like an H&M. I dunno, maybe Reflektor was the moment where people who really gave a shit about indie rock truly felt like they were being suckered.  But anyways, look at any 2013 year-end list and look at the Topshelf 2013 Sampler (another thing I'll revisit in depth) - which one of those looks better with age? None of those bands were ever going to be the next Arcade Fire…but really, Speedy Ortiz, Hop Along, Sidekicks, Radiator Hospital, Have Mercy, The World Is…I could keep going, but this is essentially the god particle for the rest of the decade of guitar music. 
---
If you made it this far, hopefully there isn't a question of "why should I give a shit?" Because this is more or less what you can expect from Something On going forward. As the music writing industry and my role in it has continued to evolve in the past couple of years (i.e., diminish at a fantastic pace), I keep [/equip sunglasses] reflecting upon the summer of 2013 and why it was probably the most fun I ever had as a professional writer (which would exclude the golden days of ca. 2005 Blogspot, a bunch of guys super into college football and Bloc Party trading 5000-word 'A Trenchant Analysis of 'Get Em Girls'"-type posts or whatever). 
Here was an opportunity to actually be of service, rather than just performing a task - using a platform that I earned with six years in the C-E slot saltmines to put people onto bands that were otherwise getting ignored completely by just about every single mainstream publication, write about albums that were several months old and be silly and kinda naive about it all. Churning out a bunch of 5.8-type reviews for Chvrches-soundalikes was rewarding in its own way, or at least challenging as a writing exercise; once you lick shots at a band with Don Iennner's kid in it, you're not gonna fall back on accusing every indie-synth band of being an industry plant as a go-to.
Moreover, I think it's worth pointing out just how many people other than myself were responsible for all of it. I don't get asked to do the Spin list or the Vulture list and meet all of the writers who I could get in on that action years later if I was a freelancer in 2013 and not a Contributing Editor who had a monthly quota of bylines I needed to meet. I know this because I pitched Thursday's No Devolucion to crickets two years earlier - one of the biggest, most influential bands in the genre releasing what was clearly going to be their last album, which was on Epitaph and produced by Dave Fridmann.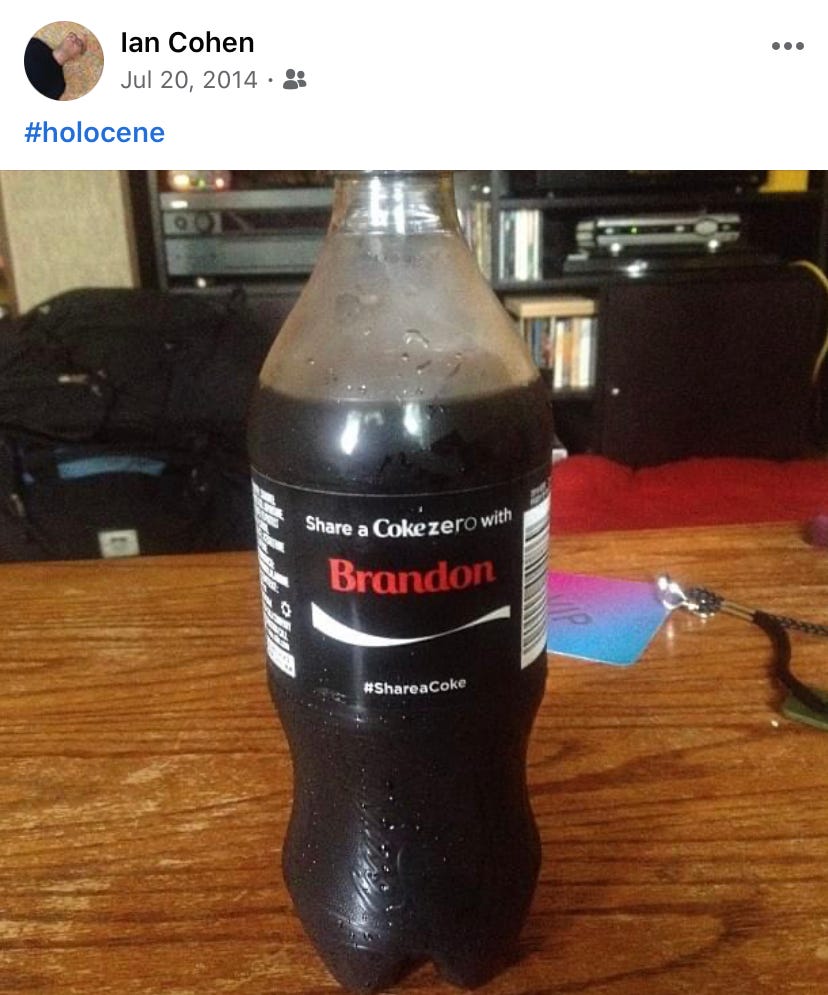 This doesn't happen if my immediate higher-up was someone with less emo affinity than Brandon Stosuy, a guy who wrote about friends who cried over Dear You and once compared M83 to Mineral and whose editorial green-light makes him most undersung hero of emo's critical renaissance; I know this because...look, all of the dumb shit that's been thrown my way over the years (in 2009, this was a drunken email from an .edu address sent at 2:30 AM calling me a pussy for giving Kid Cudi a 4.1, in 2020, it's the same guy on Twitter asking me why I still have a career after giving Kid Cudi a 4.1), the funniest is the accusation that Pitchfork was only covering emo for the clicks or to look cool. 
Granted, there was a time during the ol' Pitchfork Advance days where I pitched Modern Baseball's You're Gonna Miss It All and it was so popular that, for at least a few hours, the first thing you saw on Pitchfork's homepage was a picture of Modern Baseball - even if it was an acknowledgment of their popularity, this is still the least cool-looking band of all time, they wore cargo shorts and Crocs on stage. But I can assure you that no one ever told me, "Ian, we need those Sidekicks clicks and we need them now!" In fact, the exact opposite is true - I'm probably the only writer in history who had to be told to stop writing about emo if I wanted to keep my job. That happened around the fall of 2014, when HQ was...far more hands-on (and I ended up getting let go in 2015 anyway). So if you were an emo album released around that time (say, Restorations' LP3), sorry - you got kinda screwed over. 
And now with freelance budgets getting slashed and an understandable shift away from sad people and their guitars in the current political climate, I don't really have too many places to go with this stuff. So how do I be of service to people who might fuck with a band like Weave, who released a monster album in April and is thus out of the window for album reviews?  Their most popular song has about 1,300 plays on Spotify, so if there was a story to be written about Weave, it would have to be a scene piece, but that's more difficult to pitch to a place like Bandcamp because the Japanese music industry is still apparently dependent on CD sales - I know all of this because Friendship International told me. It's nice to tweet about this stuff and see bands get a little bump of recognition, but I always dreamed of a place where little emo bands could get treated with the critical rigor and substance of...basically every other genre. I suppose it's only right that most of this music bubbles up from Reddit or Facebook groups, where there's almost no degree of separation between the artists, the label people, the booking agents and the posters. But man...I just wish the writing didn't reflect that so often.
So I guess that's where Something On comes in. I don't know what it will look like just yet - it definitely won't be all emo, I'm pretty sure the next thing I'll write will be about day drinking to My Morning Jacket. But I do want to make this interesting not just the people doing the real work and keeping their ear to the ground, and not just the r/emo people who crash Pitchfork AMAs to ask why emo albums always get 7.8 or whatever. Truth be told, I feel most of service acting as a liaison between those audiences (who I love dearly) and the sort of people who I always felt would love Harmlessness or Nearer My God or Goodness if they understood emo in the greater context of mainstream indie rock. Or just got a little nudge, it's kind of amazing who came out of the woodwork to rave over Basking in the Glow. 
I'd like to do interviews with bands and label people, I'd like to do mailbags, I'd like to do capsule reviews of whatever bigger indie albums are out on any given week, I'd like to shine a light on things that are now bubbling up but are outside the window for coverage, and I'd like to be able to go long on shit like Wood/Water now because who the fuck knows if any publications are going to be around in 2022. 
In the model of some other newsletters I respect, this will be free for probably the first month with a subscription option to come. I know money is hard to come by and I also know that people are serious about supporting new models for music journalism and I've got bills to pay like anyone else. I obviously want to continue giving this music the highest level of visibility, if I can get something like Infant Island covered at Pitchfork, you better believe I'm doing that first (but that doesn't preclude a deeper dive here). Or, maybe no one cares what I think if it's not attached to a publication that can raise a band's booking fee. Who's to say. I guess we'll find out.